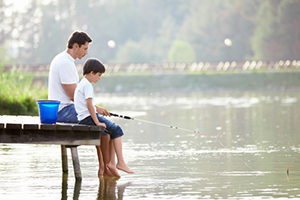 Questions regarding paternity can be difficult to resolve and often involve parties who are unaware of their rights and responsibilities. There is a large amount of misinformation about paternity cases.  At the Law Office of David Riley, we help mothers and potential fathers resolve paternity disputes. We are dedicated to building a trusting relationship with our clients, listening to their concerns and answering their questions.
Paternity is the first issue to be resolved in cases of unmarried parents. If the parties are married, the husband is legally presumed to be the father. There is no legal presumption of paternity when the parties are not married.  Determining paternity is essential in determining the proper arrangements for custody and support.  If you are involved in a paternity dispute, we can help you protect your interests and your children.
Cases filed by the State
When a parent or custodian is receiving support from the state, that person is required to provide the state with the name of the father so the state can seek reimbursement.  In these situations, the alleged father can request a paternity test at the state's expense.  An experienced attorney is vital in these matters to protect the interests of a potential father and ensure that accurate information is used to protect the father's rights in determining child support, custody and visitation.
Cases filed privately
Private paternity actions are often the result of an unmarried couple breaking up after having a child together.  If a father denies paternity, a request can be made for paternity testing by either party.  Whether a mother is seeking support or a father is seeking custody or visitation rights, the guidelines used are the same as those used in divorce actions.  The best interest of the child is paramount.  The court will enter a judgment of paternity which provides for visitation, child support and custody, just as in a divorce action.  Retroactive child support, day care expenses and medical expenses incurred as a result of the child's birth are all addressed in the court's order.  The parties are required to attend parenting classes and to create a parenting plan.
The Law Office of David Riley will answer clients' questions and address their important legal concerns.  To schedule an initial consultation with David please call (402) 991-5486.  You may also email now to request an appointment.
A Note on Legal Representation
This article is not a substitute for legal advice from your attorney. It is only a short overview of the paternity action process.